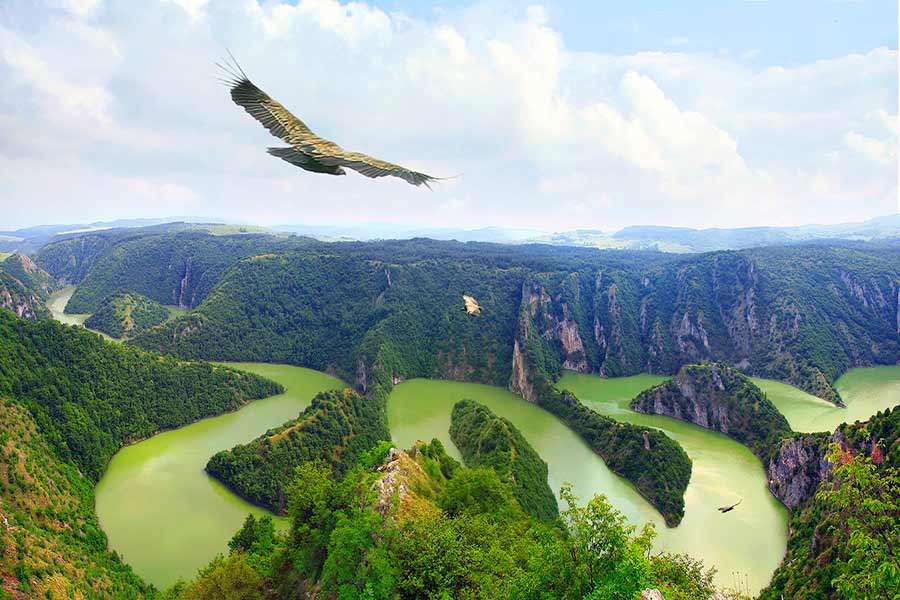 Nature of Serbia
Tara – Banjska stena, astonishing viewpoint
Banjska stena is a viewpoint on the mountain Tara , about 6 km away from the famous resort Mitrovac na Tara. The viewpoint is located at an altitude of about 1065m and offers a view of Lake Perućac and the canyon of the river Drina. It is named after the springs at the foot of the lookout. The spring was of karst origin with a water temperature of 4 degrees Celsius, and it was submerged by the construction of Lake Perućac. Beneath the viewpoint, there is the Banjsko točilo, 1300 m long, which was used in the 19th century to transport wood to the Drina, and from Perućac, where the raft was located, it was transported to Belgrade by rafts. In one part of the viewpoint, there is a binoculars that can be used to observe Lake Perućac, the neighboring mountains in the Republic of Srpska and the Drina canyon.
 
Kopaonik – Sunny mountain
Kopaonik – Sunny mountain National Park Kopaonik is a protected zone, one part of the mountain, and by the number of endemic species represents one of the most significant centers of biodiversity of endemic flora in Serbia. At the same time this is one of the largest skiing centers in the country.
Rtanj – nature that heals
Rtanj – nature that heals Although it is not time for tea, in today's topic we will deal with the same. Ceylon tea, Mao Feng, Earl gray, desert tea are just some of the teas with exotic flavors and names, without "throwing" to the level of its healing majesty – Rtanj tea.
Stara planina
Stara Planina is under the snow for almost five months a year and has excellent potential for building long trails for alpine skiing. Babin zub, which is located at an altitude of 1,758 m, is one of the most beautiful landscapes of the Stara Planina. The striking rocks of Babin zub end southwest of Midzor (2,169 m above sea level), the highest peak of Stara Planina and Serbia. Babin zub is a protected nature reserve.